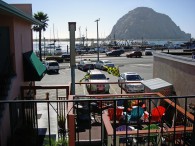 We are where we say we are – right across from the Bay.  Enjoy views from many of our 2nd floor rooms or while sitting in one of our viewing decks.
Our Amenity package in-room and guest perks meets all our guests' needs! As one of our guest's commented; "This is great that you give us Vouchers/Coupons for various places around town so we get to experience Morro Bay", Juan Feldman – director, Los Angeles.
Room Amenities:
Every room is appointed with the following:
a hair dryer
39″ flat screen t.v.
Keurig coffee maker with K-cups and

ceramic coffee mugs

small refrigerator
upon request: iron and ironing board and/or wine glasses
glasses (not plastic cups!)
Bathroom Amenities include Eco Friendly Shampoo, Conditioner, Lotion and Soap, and extra towels.
What you pay for at other hotels YOU GET "On the House"!  (Your Stay includes):
Wireless internet connection (WiFi),
Basket of snacks
Light continental breakfast
2 bottles of springwater
2 organic juices
In the mornings watch the fishing boats coming and going while you enjoy  delicious home made Cinnamon Buns, available daily, piping hot from the oven of our onsite restaurant, to go for your pick up.
* The Morro Bay Trolley runs Memorial Day thru SEPTEMBER Fridays – Mondays 11am – 5pm.

Ours is a NO-SMOKING PROPERTY which includes licensed and unlicensed combustables and electronic devices. Guests who do smoke are asked to do so 20 feet off premises. Please read the no smoking ordinance adopted by the  City of Morro Bay.
Most of our rooms are PET FRIENDLY and designated. There is an additional per stay pet cleaning fee assessed in the amount of $30 (up to 2 pets). Please read our hotel policy on pets.  There are ample areas for your dog to walk and do its business close by, but not on our property.  We take pets that can be caged or crated in the room, ie: no Lamas or Turtles. Monkeys must be diapered. Horses may be tied to hitching posts.
Rates vary per season and upon your choice of room. We welcome your call for special group rates. Please visit our Special Rates/Packages page for discounted and last-minute pricing.
CHECK IN : 3PM
CHECK OUT: 11AM